The neighborhood of Lake Shores is nestled in the Bayfront are of Virginia Beach, Virginia.  Just a few minutes from the Chesapeake Bay, Chic's Beach, and Joint Base Little Creek/Fort Story, it is convenient to a variety of outdoor activities, parks, restaurants, and shopping.  Established in the early 1960s, it continues to be a vibrant neighborhood today.
Click on the map to find us on Google Maps.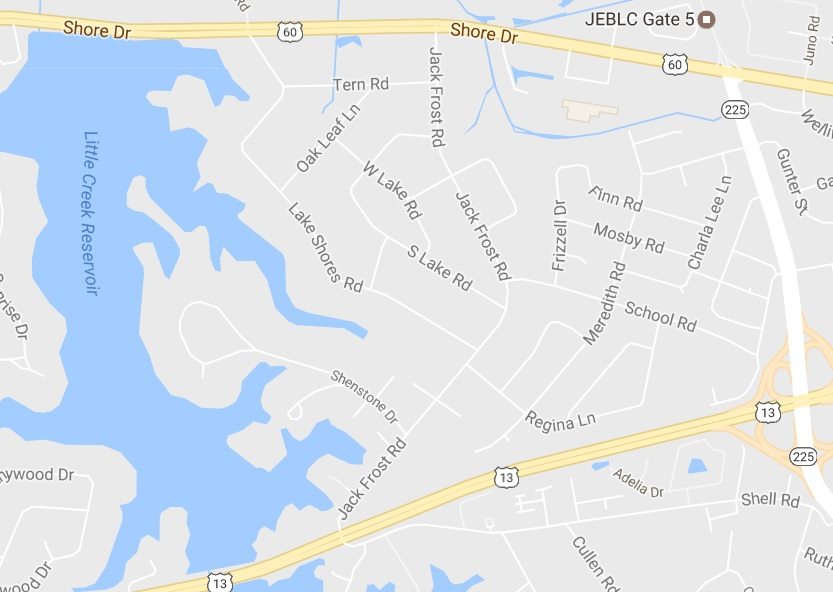 Below is the text from original establishment of Lake Shores:
Upon motion made by Mr. Herrick and duly seconded by Mr. Parsons that the Zoning Ordinance for the Lake Shores Area, Kempsville Magisterial District, proposed to the Board on November 26, 1951, be adopted:

AN ORDINANCE TO REGULATE AND RESTRUCT IN THE INTEREST OF THE PUBLIC HEALTH, SAFETY, MORALS, COMFORTS, PROSPERITY AND GENERAL WELFARE, THE LOCATION AND CONSTRUCTION OF BUILDINGS AND OTHER STRUCTURES AND PREMISES WITHIN THAT AREA OF PRINCESS ANNE COUNTY, VIRGINIA, KNOWN AS LAKE SHORES, KEMPSVILLE MAGISTERIAL DISTRICT, AND TO IMPOSE REGULATIONS DESIGNATING THE KINDS OR CLASSES OF BUILDINGS AND STRUCTURES WHICH MAY BE ERECTED AND USED IN SAID SPACE, THE NUMBER OF PERSONS, FAMILIES, OR GROUP UNITS TO RESIDE IN, OR USE THEM, THE PBULIC, QUASI-PUBLIC, OR THE PRIVATE NATURE OF THE USE THEREOF, AND TO PROVIDE A METHOD OF ADMINISTRATION AND TO PRESCRIBE PENALTIES FOR THE VIOLATION OF THE WITHIN PROVISIONS.

WHEREAS, the Legislature of Virginia has authorized the Board of Supervisors of Princess Anne County, Virginia, within the limits of said County, to establish zones, and to classify, regulate and redistrict the use of property within such zones, and the Zoning Commission appointed for that purpose has made a report to the Board of Supervisors recommending the establishment of a zone in that area, known as Lake Shores, Kempsville, Magisterial District.

This area to be zoned is locate in Kempsville District, and consists solely of land now or formerly owned by B. W. Shelton, Jr. The area is bounded on the West by Little Creek Reservoir, on the North by Shore Drive, and on the East by a road leading from Camp Bradford to the Waterworks Road. Its southern boundary is the southern line of that property now or formerly owned by B. W. Shelton Jr., which located North of the Norfolk Southern Railway Co. right of way. Inclided (sic) in this property are all of the lots shown on the "Plat of Lots, B. W. Shelton, Jr., Property, located on Little Creek, dated June 15 1947", and "Lake Shores, Section 2, Plat of Lots, additions to, B. W. Shelton, Jr., Property located on Little Creek." Excepted from the zoned area is a tract of some 1(illegible) acres located in the northeast corner of the described land, which formerly belonged to G. W. Frizzell. Also excepted there from is a small triangle of land belonging to B. W. Shelton, Jr., located on the Norfolk Southern Railway Co. tract, and bounded on the West by a road leading from Camp Bradford to the Waterworks Road, and on the North and East by the property of the United States Government.

It is desired that the ordinance contain the following provisions:
The zoned area shall be strictly a residential area.
No commercial undertaking of any kind shall be permitted, except that a resident medical doctor may maintain an office in his residence there.
Only one detached family residence may be erected on each lot. But a one or two car garage may be built, and may be attached to the single family residence or
erected apart from it. Only one such garage may be built. Such garage must be built of the same kind of materials that are used in constructing the family residence. Above the garage may be erected quarters for one family only. No out side (sic) stairway shall be erected in connection with any residence or garage.
No such garage or garage apartment shall be permitted except in conjunction with an already established single family residence.
No temporary dwellings shall be erected.
No hogs shall be raised on any part of the zoned property.
No trailer of any description shall be placed on any lot and used for living quarters.
No billboards or advertising sign of any type shall be permitted, except that a real estate sign will be allowed on the premises concerned when such premises are for rent or sale. And a small professional sign may be displayed on his property by any resident medical doctor who maintains office there.
No buildings shall be constructed without a building permit from the county. Such permit shall not be issued until the building (sic) inspector shall have examined the plans, to see that they comply with the terms of this zoning ordinance and the other county building laws.
9.a. The fees for building permits shall be as follows: Three dollars for each one thousand dollars of cost up to twenty thousand dollars; two dollars per thousand dollars of cost in excess of twenty thousand dollars and up to fifty thousand dollars; one dollar per thousand dollars of cost over fifty thousand dollars. The minium (sic) charge shall be one dollar.
The minimum construction cost of any building to be used as a residence shall be $10,000.00. This figure shall apply only to the actual construction cost of the residence, and excludes the cost of the lot, landscaping, and garage. But the cost of the garage connected to the dwelling shall be considered as a part of the cost of the dwelling.
No buildings shall be constructed on any lot containing less than 20,000 square feet.
No residence shall be constructed on any site closer than 15 feet to tis boundary lines, nor shall any garage or accessory buildings be constructed closer than 15 feet to any boundary line of any lot. No building shall be placed closer than 25 feet to the closest edge of the right of way of the highway or streets.
No building shall be moved into the zoned area while intact or in a knocked down condition. This shall prevent materials from a demolished building being used to construct a new dwelling, if such materials are approved by the building inspector.
The owner of any lot when constructing a residence thereon shall immediately install a septic tank for proper sewage disposal.
Should any section of this ordinance or any part thereof be declared by the courts to be unconstitutional or invalid, such decision shall not affect the validity of the ordinance as a whole. Such decision shall effect (sic) only that section or part of thereof which is declared inconstitutional (sic) or invalid.
This ordinance shall be enforced by the building inspector, his agents or employees. Any violation thereof shall be punishable by a fine of not less than Twenty-five Dollars ($25.00), nor more than Fifty Dollars ($50.00), or by confinement in jail for a period not exceeding thirty (30) days, either or both. Each day a continuous violation shall be considered as a separate offense.